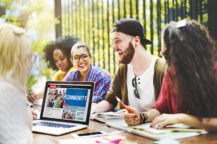 Word lid van de Online NLP community
Al onze cursisten krijgen automatisch toegang tot de besloten leeromgeving en community van Likewise Academy for NLP  & Coaching .
Al het lesmateriaal heeft daar een eigen plek, wat studeren leuk en makkelijk maakt. Bovendien kun je direct huiswerk en vragen delen met mede cursisten en met ons als trainers.
Geen cursist?
Dan ben je ook van harte welkom want er staan een aantal korte online trainingen waar je direct plezier van hebt. Zeker als je bijvoorbeeld een coach-traject volgt of pas volgend jaar mee wilt of kunt doen in een NLP opleiding of simpelweg een online leer talent bent. De opdrachten zijn kort, de oefeningen uitdagend en feedback kun je online stellen. De kennis die je hier terug vindt is tot stand gekomen uit een selectie van NLP plus jaren coach en train ervaring. Jij kunt daar nu al je voordeel mee doen en spelenderwijs aan je lifestyle, de balans tussen prive en werk( lees de interval tussen inspanning en ontspanning)  je attitude en je feedback vaardigheden werken.
Je bent direct aangelijnd en hebt toegang tot de inspiratie & kennis van NLP.
Programma 1 : Je intenties manifesteren door doelen te stellen die je nu echt haalt.
Programma 2: Attitude training hartig coachen met de NLP vooronderstellingen.
Programma 3: Feedback training, onmisbaar en continue herhaalbaar.
Klik voor directe toegang op de links en tot ziens in de community!